Prof. Heidi Byrnes Receives Career Research Achievement Award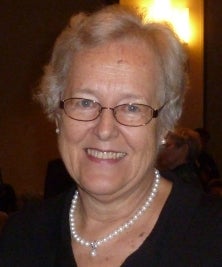 The German Department is proud to announce that Prof. Heidi Byrnes was recognized on May 16, 2014 with the Georgetown University Graduate School of Arts and Sciences Career Research Achievement Award which honors the contributions of a scholar to her/his field over the course of a career.
An internationally known expert in adult instructed second language learning and teaching, Prof. Byrnes was instrumental in the creation of our four-year integrated undergraduate curriculum in German that has gained national and international recognition since its development from 1997 to 2000.  A sign of her commitment to the Department, Prof. Byrnes generously donates the cash prize of $10,000 attached to the award to provide financial support for students participating in the popular Georgetown summer program in Trier, Germany.
After joining the regular faculty of the German Dept. 35 years ago, Prof. Byrnes just completed her last teaching semester (with a very successful graduate seminar on "Advanced SLA"). Everyone who has had the pleasure to meet Heidi knows that she will continue to be highly involved in the profession. For one, she will continue to serve as editor-in-chief of the Modern Language Journal, the most distinguished journal in Second Language Studies. 
Over the past few years, Prof. Byrnes received a number of prestigious awards including the Distinguished Scholarship and Service Award, American Association for Applied Linguistics, 2013; the Nelson H. Brooks Award for Outstanding Leadership in the Profession, The Northeast Conference on the Teaching of Foreign Languages, 2013; and the Wilga Rivers award for leadership in higher education, the American Council on the Teaching of Foreign Languages (ACTFL), 2012. 
Her colleagues and students are delighted that her home institution has recognized one of its most influential senior scholar with Georgetown's Career Research Achievement Award!
CONGRATULATIONS, HEIDI !!!