Undergraduate Alumni
Ben Gaver, COL'22
My time studying German at Georgetown has been an experience I will cherish for years to come. Four years ago, I received a letter from the German department asking if I would like to visit after I received a study trip award to go to Germany following my junior year of high school. Since sitting in on one of Prof. Weigert's classes and chatting with Prof. Eigler in the ICC as a 17-year-old, I haven't looked back since. The professors in the German department have been nothing but supportive, engaging and friendly. While I came into college with prior knowledge of the language, my course work has improved my reading, writing and speaking skills immensely, as well as, given me a better understanding of the German speaking world as a whole. I would like to thank Prof. Pfeiffer in particular for his guidance and support throughout my time on the Hilltop and would recommend his Österreichische Literatur der Zwischenkriegzeit to any incoming German student. Aside from the German department, my experience as Director of the Student Advocacy, as a member of the Club Golf team, and brother of the Alpha Epsilon Pi fraternity have made 37th and O St a place I will never forget. Entering the real world is a scary thought at the moment, but I know the skills I have gained from my experience in the German department will prepare me well as I pursue a career in the legal field.
---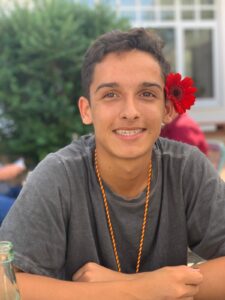 Steven Kingkiner, COL'22
Coming into Georgetown, I knew I wanted to minor in German; however, I never would've expected that I'd graduate as a German major, let alone an accelerated German masters student. Dropping my major a month into school, I was a little lost but I knew the moment I stepped foot in Professor Banchoff's Intensive Basic class freshman spring that the German Department would be my home on the Hilltop. Reigniting my love for language learning, the department pushed me to challenge myself and achieve goals I'd never have dreamed of. Without my peers, especially my roommate Shomik whom I've taken numerous German classes with, and our wonderful faculty, I wouldn't have had the support and tools to become the person I am today, which I'm eternally grateful for. I'd like to specifically thank Professor Banchoff for an amazing introduction to the department and her continued support, Professor Kick for helping me develop and dive into my academic interests in many of her classes, and the faculty as a whole for being understanding and extremely supportive during many of the academic and personal obstacles I've faced at Georgetown. While I may be taking a year away from the Hilltop and the German Department, I can't wait to finish my MA with the department following my ETA Fulbright in Germany.
---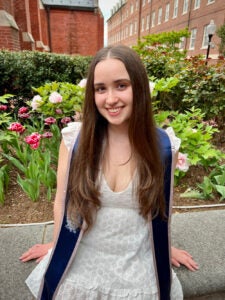 Helen Poe, COL'22
When I was accepted to Georgetown, I remember visiting campus for the first time somewhat skeptically, unsure of whether I would want to attend a school so close to my home. As soon as I stepped through the front gates, my phone buzzed—it was an email from Prof. Eigler, hoping to personally welcome me to Georgetown and introduce me to the department. It was then that I knew I'd found a program where I'd be supported not just as a student, but as a person, too. 

As the German department became my new home over the next four years, it exceeded these expectations in every possible way. During my freshman year, I worked on translation projects with Prof. Pfeiffer and even found an internship at the German Historical Institute nearby—and although Issues & Trends and Text in Context were certainly an intense rite of passage, I couldn't have succeeded without those writing and speaking skills I learned from Prof. Banchoff and Prof. Cunningham. As a sophomore, Prof. Ryshina-Pankova introduced me to German literature. It was something I never expected to enjoy, but after reading Die Dreigroschenoper, I was hooked! During the year we spent online due to the pandemic, I deeply appreciated the chance to discuss the past and present effects of German colonialism with Prof. Kick. I loved how she challenged us to lead class discussions ourselves—this motivated me to consider teaching as a possible future career. It was also during this time that I took my favorite course at Georgetown: Austrian Lit with Prof. Pfeiffer. Reading Weltuntergang and Radetzkymarsch during such an uncertain, difficult time was cathartic, to say the least. 

Returning to Georgetown for my final year has been bittersweet. When I returned to campus, I ran to the 4th floor of the ICC before I'd even finished unpacking—I was so happy to be back home, if only for a short time. I'm sad that my time here is ending, and I'm sad that we were apart for so long, but I am so grateful for how genuinely caring and supportive the German department has been throughout it all. Vielen Dank, und bis bald 🙂
---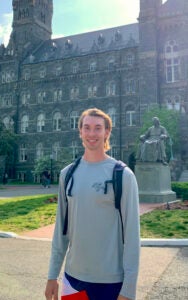 Kyle Welch, COL'22
I have immensely enjoyed my time learning German at Georgetown and I am proud to have made it one of my two majors. The classes are incredibly diverse in their range and scope and throughout my time here I have met so many amazing teachers and mentors in the German Department. These teachers have been the kindest and most helpful of all of the professors I have had, and I appreciate their passion. German has challenged me but has been extremely rewarding and has increased my love for language more than I thought it could, and I hope I can take the lessons and knowledge I've learned in these courses here at Georgetown into my career in the military after graduation.
---
The German Department would like to congratulate its Spring 2021 graduates, Ben Lang (COL'21) and Lucas Roos (COL'21)!
---
Congratulations to the Spring 2020 German Department graduates, Kristina Lignell (COL'20), Ryan Mannion (COL'20) and Dakota Walker (COL'20)!
---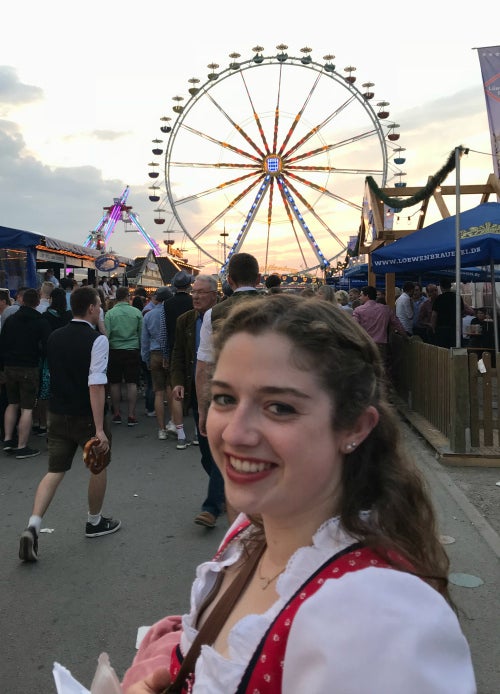 Angela Caprio, COL'19
Ever since I was invited to sit in on Professor Banchoff's class during GAAP weekend, I knew I wanted to study German at Georgetown. I remember feeling completely in over my head during "Issues and Trends"—the very first class of my Georgetown career—and cannot believe the progress I have made and the opportunities I have had. The professors and courses I have had have given me the confidence to work in a German-speaking environment, to teach German, and to spend a semester abroad at Universität Wien. What I learned in the courses Revisiting Heimat in Literature & Film with Prof. Meghan O'Dea and Tatort with Prof. Eigler inspired my honors thesis about the representation of German Muslims in the German crime series Tatort, which has been a fun challenge throughout this past semester. I am very grateful for my time in the Georgetown German department, and I am excited to see where German will take me next!
---
Bryan Mathieu King, COL'19
The sentiment that comes to the forefront when reflecting on my time at Georgetown is passion. Passion is what consumed me when I received my transfer acceptance letter, or the first time I saw Healy Hall covered in snow. It's what kept me up at night when I didn't get a grade I expected, driving me to study harder and to rise above. It was the compliment from one professor and the critique from another. It was the enjoyable essay that seemingly wrote itself and the Erörterung that didn't want to be written at all.
Much of the growth I've experienced at Georgetown has been the product of the challenging, well-crafted courses offered by the German Department, as well as the team of dedicated professors who deliver this curriculum. Surviving intensive-intermediate and intensive-advanced felt like a personal victory, followed by the summer program in Trier, which, although difficult, was an outstanding experience. My strongest faculty connections are within the German department, which is a direct result of the passionate experiences I've had throughout my time here; I am proud to be majoring in such a strong department.
The passion, in its many forms, that I have experienced at Georgetown University has forever changed me, and this passion is what I will carry with me on my next journey. I've learned at Georgetown, amongst other things, that when life feels overwhelming, it may simply be a question of perspective; which passion are you feeling? As I prepare to leave Georgetown, fondly looking over this incredible adventure that has come to an end, I am overcome with a passion that I am certain is one of love, nostalgia, and gratitude for all that my professors and this university has given me.
---
Maura Quinn, COL'19
When I first came to Georgetown, I knew that I wanted to continue studying German in some way, shape or form. Initially, I expected this to entail taking just enough courses to get a German minor, and maybe enough to study abroad. After taking Advanced Level courses in my freshman year, and "Text in Context" in my fall semester sophomore year, I decided to declare a German major.
It might sound like a cliché, but being a German major truly was the best decision I made at Georgetown. Although the curriculum consistently challenged my German abilities, with the help of the spectacular professors in the department, I have achieved a level of fluency in German I never thought possible my freshman year. I had the opportunity to matriculate into the Universität Tübingen for a semester, where I got to experience what German student life was really like. I met some of my closest friends through the German Club and German classes.
I thank the German department for being such a integral part of my time at Georgetown, and I will carry the lessons I learned as a German major with me for the rest of my life!
---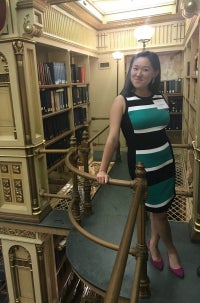 Shannon Lee Chai, COL'18
My journey with the Department of German at Georgetown was somewhat unintentional but ended up being one of my favorite parts of my four years at GU. When I came to Georgetown, I had just returned from a gap year in Germany, where I had started learning German and fallen in love with both the language and culture. I decided to continue learning German at Georgetown, and my first class was "Issues and Trends" with Prof. Pankova. It ended up being my favorite class that fall! I loved the small class size, the structure of the curriculum, and the supportive faculty. I love that it's possible for all the professors in the department to know you – that's how small yet personal our German Georgetown family is! Over the past four years, I've received unparalleled academic and personal support from German faculty and my peers. Thanks to the Department, I've written and performed multiple skits, video chatted with multiple German writers, written and presented an honors thesis, chatted with a language partner from Germany, and made friendships that will stay with me for a lifetime. Vielen Dank für die wunderschöne Zeit!
---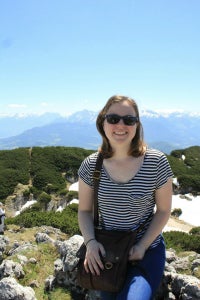 Michaela Harrington, COL'18
I came to Georgetown only sure of one thing– that I wanted to be a German major. I had no idea what I wanted my college experience to be, but I knew I wanted to continue studying German after high school. Some things have changed since then. I've added a linguistics major, discovered new hobbies, and learned to call a new city home. But as I prepare to graduate, I am so thankful to have had the German Department these last four years. From the friends I've made to the opportunities I've had, the German Department has shaped my Georgetown experience. Now at another juncture in life, I know I can look to the skills and community Georgetown has given me once again as I make these decisions.
---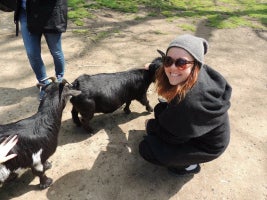 Susanna Herrmann, COL'18
Somewhere in the process of applying to Georgetown, I accidentally declared a German major. Initially, I wasn't planning on keeping it, but I decided to give it a shot for a year and to make a decision after. During that year I took two of the hardest classes I've ever had at Georgetown and enjoyed them so much that I ended up keeping the German major. It turned out to be a great decision. The German Department has been a central part of my experience at Georgetown both academically and socially. I met some of my closest friends in German classes, and I learned so much that I felt completely prepared for everything that my year abroad in Tübingen threw at me. If I could go back in time, I'd accidentally declare a German major again.
---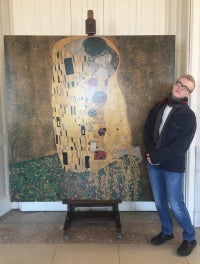 Evan Thomson, COL'18
German has – in every way possible – both bookended my experience at Georgetown as well as colored everything in between. From my first course, "Witches," to my last, "Scandalous Tales," the Georgetown German Department has allowed me to explore engaging topics across sub-disciplines. In these very classes, I found a community of faculty and fellow students whose interests lay not only in the subject matter, but also in each other's well-being.
I can only hope to carry the insight and encouragement I received here into my own career. As I move on to Teach for America in Philadelphia, I will be studying Education at Penn with a focus in foreign language teaching. One day, perhaps, I can play a similarly integral role for my own students. In any case, the time I spent in ICC 468 helped define my "Georgetown Experience."
Eine zweite Heimat haben Sie mir gegeben; mir fehlen die Worte, auf Englisch und auf Deutsch, um auszudrücken, wie dankbar ich dafür bin.
---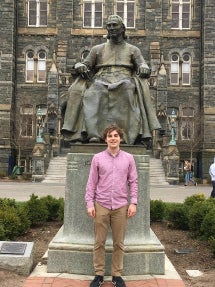 Henry Zelenka, COL'18
When I was just starting out in Intensive Basic German my very first semester at Georgetown, I thought that German was no more than a convenient means of satisfying my language requirement. I am lucky to have been mistaken! German instead became something I will be able to keep with me the rest of my life. Thanks to the German program at Georgetown, I feel much more knowledgeable about both the German language and the culture of German-speaking Europe. I credit the Georgetown Department of German for sparking my interest in foreign languages and teaching me that learning a second language can be not only a valuable skill, but a hobby and a passion.
---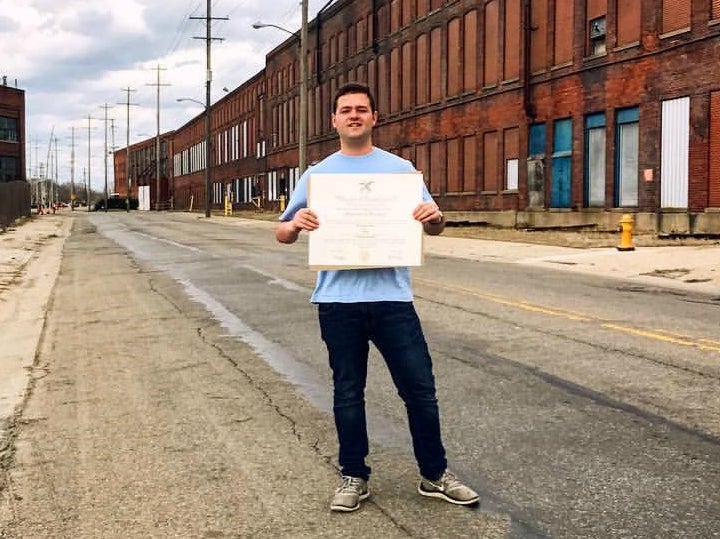 Tyler Bridge, COL'17
I can remember the day the mail truck came sputtering down Layhigh Road in Hamilton, Ohio – never could I have imagined I'd open a letter congratulating me on my admittance to Georgetown. I grew up next to the shadows of paper mills that are no more, decaying German neighborhoods once steeped in culture, and a sense among many that nothing could alter a future of decline; I'm proud to come from the Rust Belt and I chose to study German, of all things, because I believe we can change this future. The magic of studying German at Georgetown is not that one can become proficient in four years, but do so through a genre-based curriculum that matters. From a classroom in the Intercultural Center to Trier and on to Berlin, I was able to study genres I cared about with mentors who changed my life and a Department that became a family. I hope to return one day to Washington, sent there by the people of Hamilton to put these genres into practice.
---
Ainsley Fahey, COL'17
As a transfer from another institution where I had already exhausted the German curriculum as a freshman, I was immediately impressed with the German Department at Georgetown when I arrived in the Fall of 2015. I began learning German as a freshman in High School but I learned more in my first semester of Intensive Advanced at Georgetown than I did in the prior five years combined. I have been continually inspired by the passion of the professors and the depth of the subject matter that we delve into, from children's literature to autobiographical texts. What I have appreciated the most, however, is the willingness of the professors to help outside of the classroom and their sincere interest in my success, especially when German felt daunting and difficult. Thank you to the German Department for being a supportive and integral part of my time at Georgetown!
---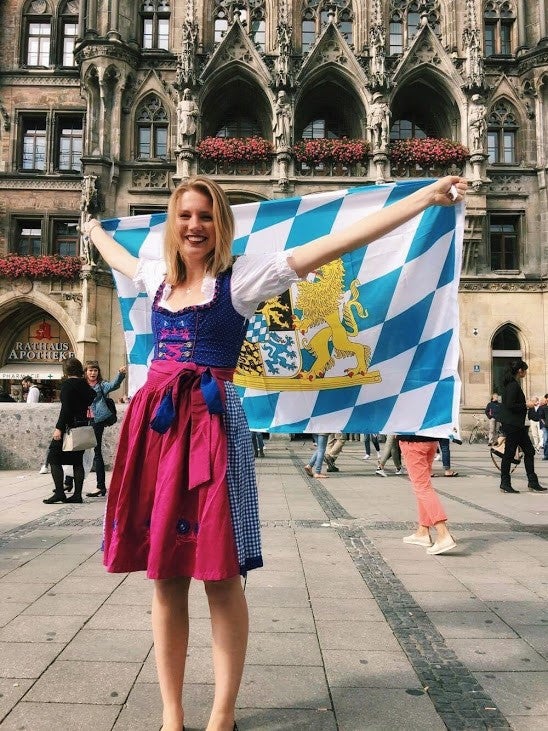 Anna Lignell, COL'17
With its outstanding faculty members, close-knit environment, and challenging curriculum, I was able to find my home on the hilltop through the Georgetown German Department. I made some of my best friends and memories during study abroad stints in Trier and Munich, at German club events, and in my classes. Through the history, literature and culture I learned about and experienced, I grew so much closer to my German heritage, able to connect on a deeper level with the large part of my family that still lives in Bavaria. Vielen herzlichen Dank für die schöne Zeit!
---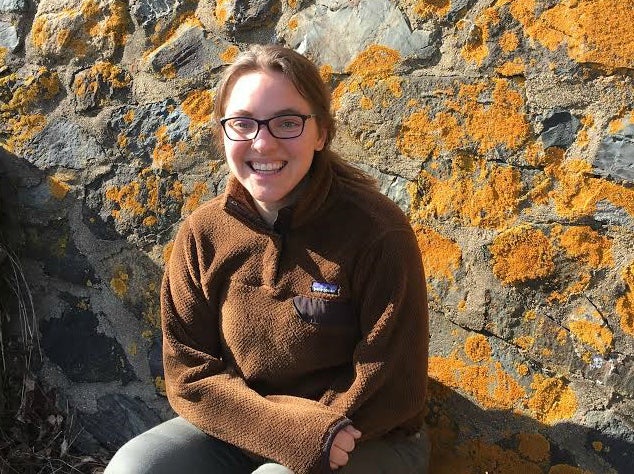 Zoe Novak, COL'17
As a first-year student at Georgetown, I was definitively undecided about my major. I had studied German in High School and, on a whim, decided to enroll in GERM 151 "Issues and Trends." The course met early on Monday mornings and was the first college class I ever attended. Little did I know that my experience in the course would encourage me to declare a German major and go on to define my Georgetown experience. Over the past four years, I have found the students and faculty of the German Department to be insightful, encouraging, driven, and compassionate. I have many fond memories of classroom discussions, group performances, and studying abroad in Trier as well as words of wisdom from faculty mentors that I will take with me when I leave Georgetown. Starting in June, I will be working as an education volunteer in Sichuan, China through the Peace Corps. When I return, I hope to continue teaching English (and perhaps even German!) as a second language.
---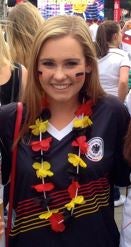 Katie Cavoli, COL'16
Coming to Georgetown, I unsure what I wanted to study. I enrolled in Intensive Advanced German to check off the College requirement for a foreign language. However, I quickly fell in love with the German department — the accessibility and passion of the professors, the variety of courses offered, and the study abroad opportunities. I continued taking classes in the department and, sophomore year, declared my German major without hesitation. The following summer, I studied abroad in Trier. Trier embodies and reflects the German department — courses offering a combination of history, culture, and literature, led by professors passionate about the subjects and their students. In those five weeks I learned more about German culture than I could have in a classroom in ICC. In addition to German, I also majored in Economics. This combination has led me to pursue a career in litigation consulting, specifically international arbitration. Due to their international clients, my firm seeks out employees fluent in more than one language. Thanks to the German department, I strengthened these skills, and I look forward to using German in the workplace.
---
Kevin Wolfe, COL'16
Having learned French and Spanish before my college career, I wanted to take advantage of Georgetown's great language faculties and begin studying another European language. Deciding to enroll in Intensive Beginner German, I was quickly overwhelmed by the daunting complexity of German grammar and vocabulary. Little by little however, I began to grasp the vast array of information taught to us in a seemingly chaotic manner. As I progressed through the higher levels of German, I became exponentially more interested in the culture and history that surround it. Having been fortunate enough to study at two of the German Department's abroad programs in Trier and Berlin, I gained invaluable first hand knowledge of the German-speaking world as well as strong linguistic skills that have allowed me to speak the language on a sophisticated level. Now back at Georgetown, I am nearly done with my undergraduate studies and am looking forward to pursuing a Master's in German and European Studies at Georgetown's SFS. I am confident that my language skills and cultural understanding acquired over the past four years will serve me in a global career and am grateful for the excellent level of care, attention, and instruction shared by the professors in the German Department.
---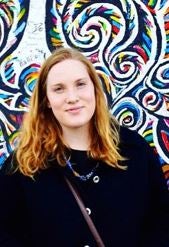 Rose Reinacher, COL'16
I entered Georgetown as a German major after studying the language during high school and referencing my desire to read many of the classics from German literature in my admissions essay. Taking courses during my freshmen and sophomore years confirmed my passion for the German language, literature, and culture. During the spring semester of my junior year, I studied abroad in Berlin, where I was able to experience the history that I'd learned about at Georgetown first hand. I was even able to visit my favorite German painting — one that I was introduced to in a German romanticism class: "Mondaufgang am Meer" by Caspar David Friedrich. As graduation fast approaches, I can't help but reflect on what positive experiences I've had with the German department. Not only did I achieve my goal of reading famous German authors like Goethe and Brecht, but I truly enjoyed my learning experience. After graduation, I plan to continue using my German language and, hopefully, one day return to Berlin. Vielen Dank to all of my German professors!
---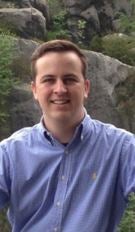 Thomas Albers-Fiedler, COL'16
My experience with the German Department over the past few years has included an exploration of the significance of the legacies of Germany's past, as well as the German experience of national identity, political unification, and integration into the EU—and its preeminent role therein. I have studied Germany's economy, politics, social and educational systems in addition to works of literature, cinematography, and art. I have gained interpersonal and presentational skills in the German language and the ability to develop effective and nuanced lines of interpretation. If someone had told me that the most interesting and enriching course of my college years would be a course in Märchen, or fairy tales, I would not have believed it, but that is, in fact, the case.
I have wonderful memories of studying abroad at Universität Trier, of culinary delights and Gemütlichkeit, and of visiting the landmarks of Germany's oldest city. Following my graduation, I plan on applying to law school, and I hope to incorporate my knowledge of the German language and culture in the work that I will ultimately do. Ich bedanke mich recht herzlich für die Unterstützung während meiner Zeit an Georgetown und wünsche alles Gute für die Zukunft!
---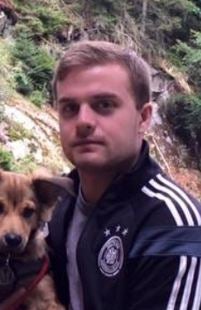 Christian Schmidt, COL'16
My experience within the German Department has been both challenging and rewarding. Exploring various subjects through the German language broadened my horizons and even led me to pursue some topics more deeply through my minors. The highlight of time at Georgetown was the Summer in Trier program, where I made friends that I remain close with to this day. In the future, I hope to use my German language skills in a professional capacity and perhaps to even pursue a graduate degree in Germany.
---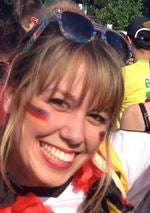 Hillary Heer, COL'15
Growing up with a German dad gave me considerable exposure to the German language and culture, but it wasn't until I found myself at Georgetown that I realized how transferable these skills were to other aspects of my life. After taking Professor Pfeiffer's German Cinema class, I was taught to look for deeper meaning to the movies we were watching and not to simply "consume" them. Professor Weigert's German Business class showed me how differently countries conduct business and how to successfully navigate these conflicting cultural norms. My semester in Berlin introduced me to different personalities and I will forever remember how I was able to celebrate Germany's 2014 World Cup win. All these experiences have increased my love for Germany and equipped me with skills that I would never have been able to learn in any other setting.
---
John Haviland, COL'15
The desire to learn a foreign language started when I was very young; as a kid, I was always jealous of my friends who could speak foreign languages. This led me to German when I was in sixth grade. I instantly took to the language; I loved the way it sounded, the way it worked, and after spending a year abroad in Austria before Georgetown, I knew I wanted to continue to study the language and its numerous cultures. German at Georgetown has been a polycentric experience. I have been fortunate to have the chance to read classic German texts from centuries ago and become familiar with the European Union and German business and theater history. The department has really shown an interest in teaching everything relating to the language, and I appreciate the diversity of topics and issues one is able to explore with a German education at Georgetown.