Prof. Friederike Eigler Publishes New Book
Prof. Eigler's new book entitled Heimat, Space, Narrative: Toward a Transnational Approach to Flight and Expulsion has been published by Camden House.
At the end of the Second World War, millions of Germans and Poles fled or were expelled from the border regions of what had been their countries. This monograph examines how, in Cold War and post-Cold War Europe since the 1970s, writers have responded to memories or postmemories of this traumatic displacement. Friederike Eigler engages with important currents in scholarship — on "Heimat," the much-debated German concept of "homeland"; on the spatial turn in literary studies; and on German-Polish relations — arguing for a transnational approach to the legacies of flight and expulsion and for a spatial approach to Heimat. She explores notions of belonging in selected postwar and contemporary German novels, with a comparative look at a Polish novel, Olga Tokarczuk's House of Day, House of Night (1998).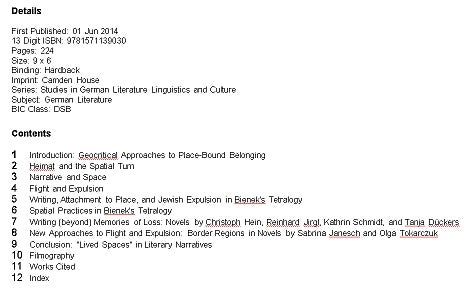 Eigler finds dynamic manifestations of place in Tokarczuk's novel, in Horst Bienek's 1972-82 Gleiwitz tetralogy about the historical border region of Upper Silesia, and in contemporary novels by Reinhard Jirgl, Christoph Hein, Kathrin Schmidt, Tanja Dückers, Olaf Müller, and Sabrina Janesch. In a decisive departure from earlier approaches, Eigler explores how these novels foster an awareness of the regions' multiethnic and multinational histories, unsettling traditional notions of Heimat without altogether abandoning place-based notions of belonging.