Department hosts Max Kade professor from Germany in S15: Dr. Christian Sieg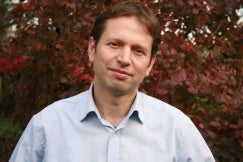 The German Department is delighted to host Max-Kade guest professor Dr. Christian Sieg, from the University of Münster, for the 2015 spring semester.
Dr. Sieg will teach two courses, one level V course for undergraduates: Radio Voices: Postwar Germany (GERM-327), and one graduate seminar on Modernism and Modernity (GERM-735).
Dr. Christian Sieg is a Fellow at the Cluster of Excellence 'Religion and Politics' in Münster. He studied at the Freie Universität Berlin and received his PhD from Stanford University in 2008. He holds a research position at Westfälische Wilhelms-Universität Münster where he is part of an interdisciplinary research center on religion and politics. He is the author of The Ordinary in the Novel of German Modernism (2011) and has published on 20th and 21th century literature, culture and philosophy. Currently, he is finishing his second book on political authorship in post-war Germany.  
Dr. Sieg's webpage is available here.