Study Abroad at the TU Dresden
The Technische Universität Dresden has its roots in the Royal Saxon Technical School that was founded in 1828. Today it is a university that unites the natural and engineering sciences with the humanities and social sciences, as well as medicine. This wide range of disciplines, which is unique in Germany, brings with it the obligation for the university to promote interdisciplinarity and to contribute to the integration of science and society.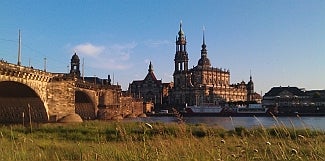 If you are interested in studying at one of Germany's largest and most research-intensive universities, TU Dresden will be the right choice! Not only do students get easy access to a wide range of educational opportunities in the capital of Saxony, they can also experience Dresden itself – a unique and inspiring city. Each department provides student counseling to guarantee academic support and to ensure that the motto of the TUD, "Knowledge Builds Bridges," is not only an empty phrase. Thus, studying in Dresden will promote a well-rounded study abroad experience.
As a member of the prestigious Excellence Initiative, the university fosters multicultural interaction, especially concerning international students. There are many organizations, such as the tutoring program of the OIP (Office of International Programs) and the student ERASMUS-Club which offer many opportunities for international students to meet German students.
The TU Dresden is among the top universities in Germany and Europe: strong in research, it offers diverse academic programs, with close ties to culture, industry and society. As a modern university with 14 departments and about 37,000 students, it is the largest university in Saxony.
The department for German Studies includes the field of DaF (German as a foreign language) and is home to multiple areas of concentration and professorships: General Comparative Linguistics, Applied Linguistics, Older and Early Modern Literature and Culture, German Linguistics and Language History, Media Studies and German Literature, German Literature and Cultural History (focused on gender), Recent German Literature, as well as Didactics of German Language and Culture. Exchange students are able to choose from the entire range of course offerings, providing them the opportunity to broaden their knowledge across multiple disciplines.
One of the major tourist centers in East Germany, the historic city center with its many Baroque and Rococo buildings attracts visitors as well as locals with its cultural, historical, and scenic sights, such as the Gemäldegalerie Alte Meister, the Frauenkirche, or the banks of the Elberiver with its world-famous Canalettopanorama. On the other side of the Elberiver, one can find the hotspot of town, the lively and young Neustadt – the perfect place to socialize, meet new people, and to feel at home.